Iyanu Premium Hair Growth Oil is the newest addition to the hair care oils collection from Ade Ori Hair Care.
The hair growth oil is formulated with 11 powerful and unique plant oils and essential oils that have been proven to assist with hair growth.
It is one of the best hair growth oils for optimizing scalp health for stronger hair growth and fuller hair strands.
Iyanu Hair Growth Oil strengthens hair and prevents hair breakages, encourages hair growth, prevents split ends, and helps maintain a healthy scalp.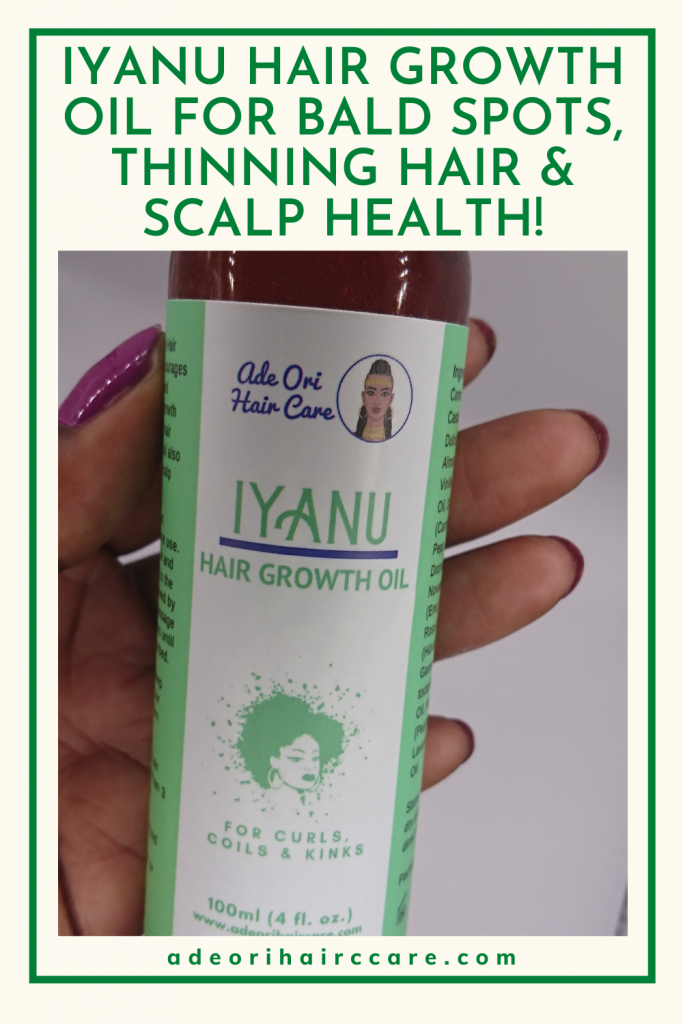 Who is this Hair Growth Oil Best For?
Iyanu Hair Growth Oil is suitable for:-
Type 3 hair
Type 4 hair
Low porosity hair
High porosity hair
Iyanu Hair Growth Oil is suitable for bald spots and thinning hair. It will gently stimulate follicles and encourage new hair growth.
Can you still use this hair growth oil if I don't have bald spots or thinning hair? Yes, you can!
Iyanu Hair Growth Oil also optimizes scalp health and boosts hair growth rate over time.
What Are the Ingredients?
Iyanu Hair Growth Oil include Ricinus Communis (Black Castor) Oil, Prunus Dulcis (Sweet Almond) Oil, Vitis Vinifera (Grapeseed) Oil, Daucus Carota (Carrot) Oil, Cucubita Pepo (Pumpkin) Oil, Dromaius Novaehollandiae (Emu Oil), Hibiscus Rosa-Sinensis (Hibiscus Flower) Oil, Gamma-tocopherol (Vitamin E) Oil, Mentha Piperita (Peppermint) Oil, Lavandula (Lavender) Oil.
Learn more about the ingredients HERE.
Achieving healthier hair growth is a lot more than just slapping oils on your scalp and hoping for the best.
There's a system to application and techniques involved and I've compiled them all into the free user guide included with this hair growth oil.
The user guide includes tips for achieving the best results from the use of this hair growth oil and incorporating it into your current hair care regimen.
Customers also get a surprise freebie with every order!
Iyanu Hair Growth Oil is handmade to order to ensure you receive the freshest of oils. The oil only includes the best natural oils and essential oils.
There are no alcohol, mineral oil, silicone, liquid paraffin, or artificial fillers and fragrances in Iyanu Hair Growth Oil.
When Will I See Results?
All the ingredients in Iyanu Hair Growth Oil are targeted towards healthier hair growth and length retention.
You should start seeing results in about 6 weeks and visible improvement within 8 weeks but can take up to 12 weeks.
Remember, consistency and patience are key!
Head on over to the sales page HERE to place your order. You will be able to download the free user guide immediately.
Iyanu Hair Growth Oil is best for scalp health and optimizing hair growth. If you want something for hair sealing and styling, Arewa Hair Styling Oil is better suited to your needs.
If you have any questions before purchasing, drop them in the comments section below. Otherwise, get the hair growth oil HERE.